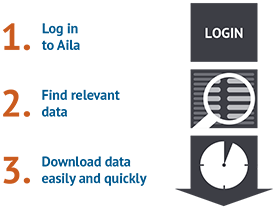 Download data from Aila
In the Aila Data Service you can freely search and browse study descriptions of archived data in Finnish and in English. The variables of many quantitative datasets have already been translated and are available in English.
Data download is also free of charge. Some data are available for all users but in most cases download requires registration.
Students and staff from the Finnish universities, polytechnics and research institutions can register themselves using HAKA authentication. Other users apply for a username from FSD User Services.
Browse, search and download data

Read instructions for using the service

Read conditions for Aila use